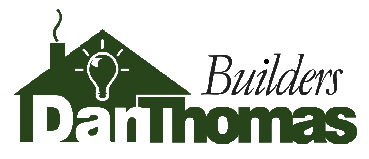 Copyright © 2014 All rights reserved. / Web Site by Dan Thomas
Site Map

Why Go With a Small Independent Custom Builder?
Since I'm not a tract builder, I'm able to maintain a hands on approach in the construction of my homes and have consistently been ahead of the pack on new and innovative ideas.
From the beginning, I have always been dedicated to building homes that need minimal maintenance and reduce monthly utility bills within a strong frame. Add a healthy balance of superior customer service, interesting design, function, and comfort - temper it with a realistic budget, and you've got a Dan Thomas Builders home.
I can build from your plans, we can draw custom plans for you, choose from thousands of stock plans, or choose from several of our "in-house" customizable plans.
I have been building homes in Pitt County since 1987, and specializing in "ICF" (Insulated Concrete Form) construction since 1999.
Sustainable homes are my calling card and I will build stick frame, ICF, or SIPS homes, though I must confess to a strong ICF bias.


As a family owned small business, I enjoy putting other families into new homes. Good families in well built homes make for great neighborhoods.
Considered one of the finest and most trusted builders in the Greenville area, I still continuously strive to improve all facets of the business.


Whether you are looking for a home with the maximum square footage with standard amenities or one fully loaded with all the possible custom features, I'll give you the best possible home for your money.
We strive to remain among the best contractors in the state by providing dedicated, honest guidance and advice to our clients in building attractive, sustainable, and energy efficient homes. Our pledge is to establish lasting relationships with our customers by exceeding their expectations and gaining their trust through exceptional performance throughout the construction process. We will also continue to embrace cutting edge technologies, best practices and streamlined processes that make it easy for customers to personalize their home. Our success will be measured by the ability of our clients to easily sell their Dan Thomas Builder's home when the time comes, and their unqualified commitment to build with us again.