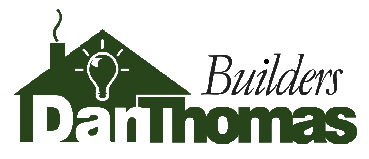 Copyright © 2014 All rights reserved. / Web Site by Dan Thomas
Site Map
When anyone can claim their home is

Green

, what does it really mean to be a

Green

Home?
There is a lot of hype and misinformation about "Green". For anyone truly interested in sustainability, the concept of what a green home truly is and how it can be measured is a confusing one. Together with the International Code Council, the National Association of Home Builders have designed an ANSI approved American National Standard for all residential construction; including single and multifamily buildings, remodeling, and lot and site development. Now, a trained and certified green professional builder can build a certified green home which is verified by an independent third party.
The Certification Process involves the incorporation of environmental considerations into every phase of the home building process. This means the energy and water efficiency, lot development, resource efficient building designs and materials, indoor environmental quality, homeowner maintenance, future operation of the home, and the home's overall impact on the environment, are all taken into account during the design and construction of a home.
I have been Building Performance Institute Certified as Building Analyst, Building Envelope, and Whole House Air Leakage Control Installer; and received certification to teach and proctor these skills.
I completed the NAHB certification course in September of 2008 and can incorporate as many of these elements into your new home as desired and build it "NAHB Certified Green" to a level of bronze, silver, or gold if you wish.