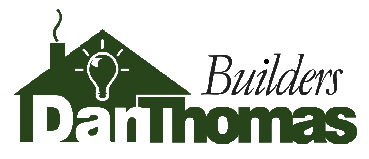 Copyright © 2014 All rights reserved. / Web Site by Dan Thomas
Site Map
Why Go With a Small Independent Custom Builder?
The most compelling reason to go with an independent custom builder is, if a small local guy has been around more than 10 years or so, he MUST be doing something right! I have been in business for over 27 years. Construction is a highly competitive and service oriented business. The large tract guys can force unsatisfactory service and work down your throat - small contractors don't last if that is their business model. With a small custom builder, the person you talk to and deal with IS THE BUILDER (ME).
Your contact is your builder - You deal directly with me every step of the way.
Local - I employ local staff and contractors, and work with local suppliers and manufacturers. They are part of the community and are always available and accessible to you. I know the local regulatory agencies and staff.
Peace of mind - In business and licensed Building Contractor since 1987. Member of NAHB and NAR.
Credibility - Stable, experienced, professional business.
Exciting designer homes - I can build any style or price range of home and of course can customize to suit your personal needs.
Quality - Unfortunately, continuing education for building contractors is not required in North Carolina, but I never stop learning. I regularly participate in continuing education and professional training, and that's reflected in the quality, style, finish and long life of your new home.
Value - Low overhead helps keep the cost down. Paying suppliers and subcontractors in a timely fashion over the years allows me to get the best subcontractors and suppliers at competitive prices. I can pass the savings on to you, and so guarantee competitive pricing, with no compromise on quality
Flexibility - I'm not constrained in what I can build by some vague company "policy" – my plans, your plans, or bring your ideas, and I can create a custom design for you.