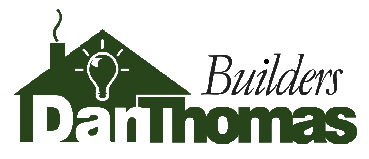 Copyright © 2014 All rights reserved. / Web Site by Dan Thomas
Site Map
We were so impressed with the high quality construction and workmanship that we knew we wanted you to build an ICF house for us.....We appreciated your careful explanations of the tradeoffs in the options we considered during the design phase......Our home is quiet, comfortable and extremely well temperature controlled with none of the drafty corners so many other homes have....We want to thank you for everything. We absolutely love our "Dan" house and would recommend your company to anyone planning to build a new home.
- Paul and Sandy Matranga
Having chosen you as our contractor was one of the best decisions that we have ever made. You made building our home a most pleasant experience. ….We have lived in our house for a little over 5 years and we love it..…We do not hear outside noise ……Our electric bill for the last 12 months has averaged $102.86 per month…….We would highly recommend your company to anyone planning to build a home.
- George & Connie Rhem
My ICF home is one of the best investments I've ever made. I increased my square footage 71% over my previous house and my utilities increased an average of less than 12%. I spent over 13 years in banking in new home construction. This is the best built house I have ever seen.
- Mark & Eileen Weitzel
…I can't imagine building with any other method of construction or builder…..Your estimates were accurate, your honesty in telling us promptly about circumstances / supply problem delays led to avoiding disappointment….Why would anyone take chances with any other builder?
- Beth & Joe Miller
...When you have utility bills for a house that are less than what you paid while living in a condominium, you know you have made a wise choice.......He stands behind his product and made concerted efforts to make sure we were taken care of well after we had moved in.
- Rob & Leigh Bright
The experience of building my home with your company was great…..Your company made our experience very easy and non stressful….. I absolutely love the "ICF" method of construction….Our utility bills are very low considering how big our home is, and we never hear any outside noise.
- Wendy Cannon
…after living 4 full seasons in our ICF home we are very satisfied. I was impressed with the professionalism both you and your crew exhibited during construction. I believe the "ICF" upgrade is the best investment going today.
- Randall Hall
We did not want to have to build a house because people had told us that it was sometimes a nightmare. But, you were always available to answer questions, so it was not a nightmare. It was mostly fun.
- Jan & Sy Saeed
I met Dan Thomas in 1992 when my wife and I began looking for a new house. We found exactly what we were looking for and purchased it soon after. The house was a spec. house in a fairly new neighborhood and the builder was Dan. Three years later we thought that it was time to build a bigger house for our growing family. We agreed that Dan was the only contractor that we trusted and didn't even speak to another. That was in 1995 and I still live in the house today. I have made many upgrades and changes to the house to keep it up to date, but the structure is still the same and has weathered many storms throughout the years.
- David Smith
Our house that Dan Thomas built is an ICF house and we have lived in it for about 7 years. The most consistent qualities that we have had with this home is how quiet it is and sturdy. When we have a big storm come through we barely hear or feel the winds. The next huge benefit that we are reaping is the lower cost to heat and cool the house. Comparing with neighbors bills they are much lower. Our most expensive cooling electric bill has been $220 and on the heating about $200 on a 3000 square foot home. it has kept our utilities cost way down so reaping the advantages of the ICF home. The quality in this home has been a testament in time. If you choose Dan Thomas to build your next ICF home, you will be greatly rewarded in a great quality home.
- Benjamin Hubbard
Dan Thomas built our custom 5500 sq.ft. home back in 2008. It was anything but ordinary and had several unique challenges that Dan had to face. Our home has an ICF wall system which yields utility bills comparable to our previous home, which was less than half the size. Dan finished the job ahead of schedule and under budget. Even six years later Dan remains available for questions and problems. If I were to build another home, it would be built by Dan!
- Ruth and Michael Flynn
I have known Dan Thomas since 2003 when my wife and I engaged his firm to design + build our home. I am a registered professional Architect and am employed in the Healthcare field. I live in the design and construction world everyday and did not have time to manage a "house project" on the side. Dan was great to work with and did an excellent job with the budget and coordination of sub contractors. We have been in our home over 10 years and if I had to build another one tomorrow I would call Dan
- Tim McDonnell
Here are some things my past clients say about Dan Thomas Builders and ICF Homes